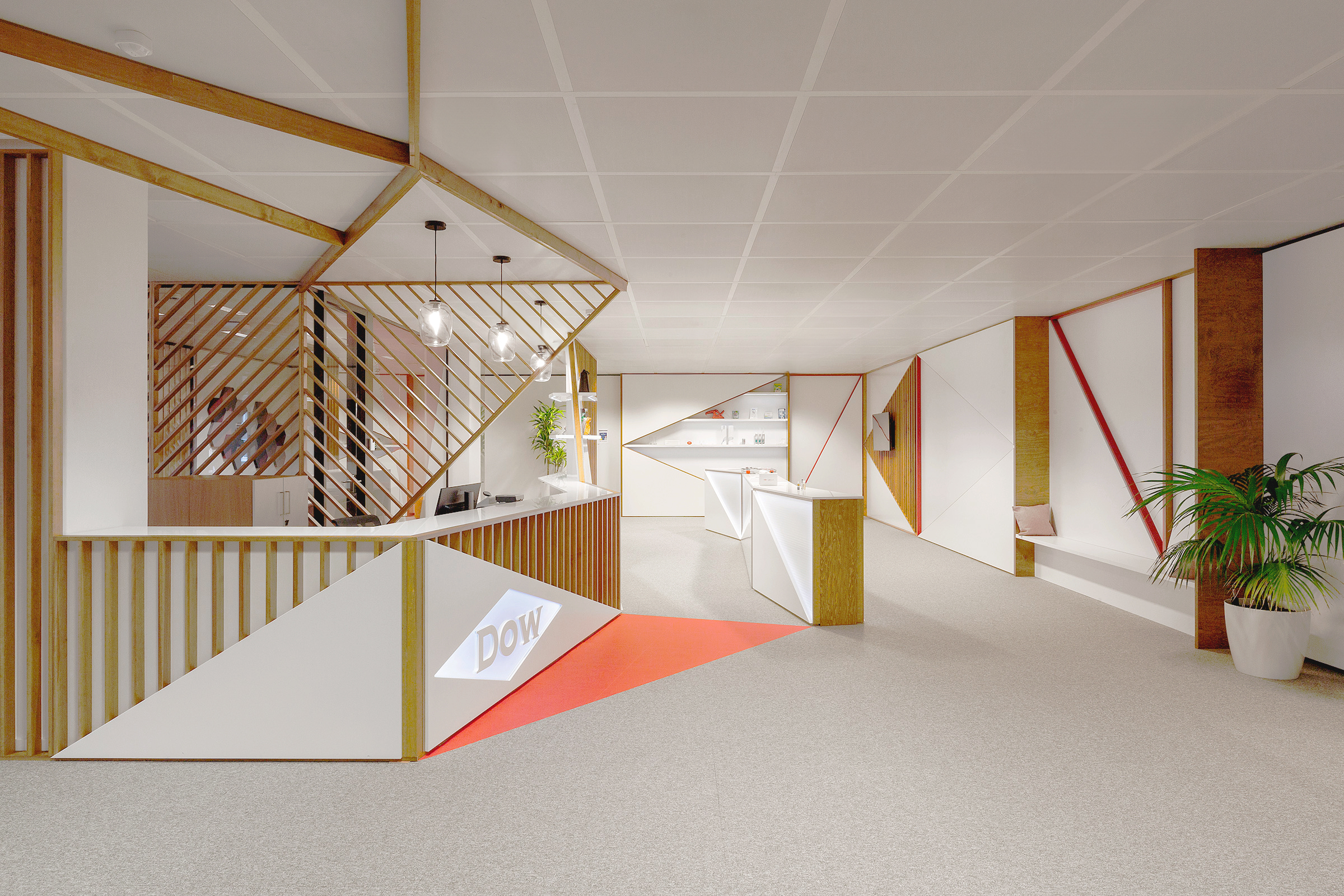 Dow
Design for productivity and people
The Dow Chemical Company is one of the largest chemical companies in the world. The multinational corporation's European headquarters are in Horgen, near Zurich, Switzerland. Dow is a world leader in research and technology for chemicals, plastics and agricultural products.
Antwerp, Belgium
Full EPCM for 1,100 m2 office space
IPS Belgium
Arquid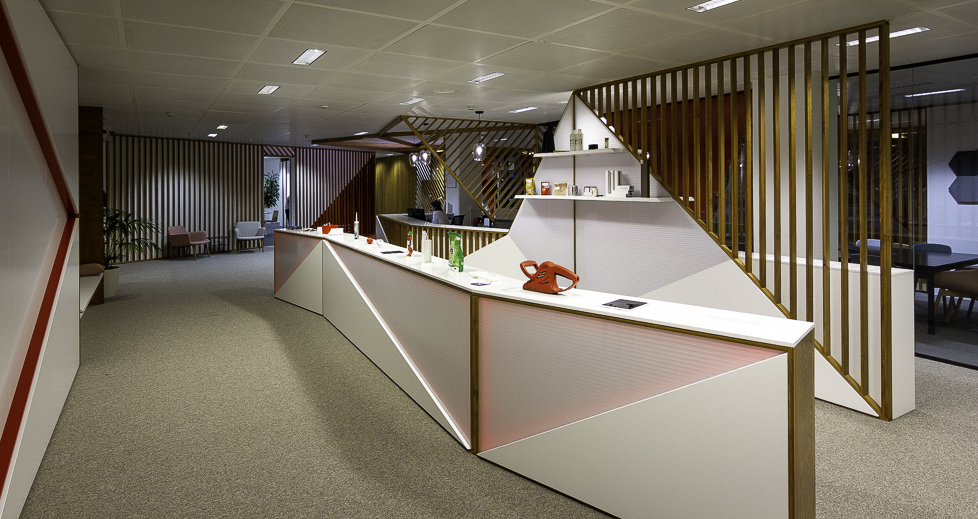 Few companies have the global reach and impact of The Dow Chemical Company. Their subsidiary, Dow Benelux B.V., reached out to us for help developing a new sales and service center in Antwerp that would serve as a highly functional extension of their respected brand. The company's former location was convenient for employees, but because Dow customers from across Europe regularly pay a visit to the offices to meet with the team and view their products, the chemical brand needed to make some improvements on the status quo. They told us they wanted something different for the space, and we were more than happy to oblige.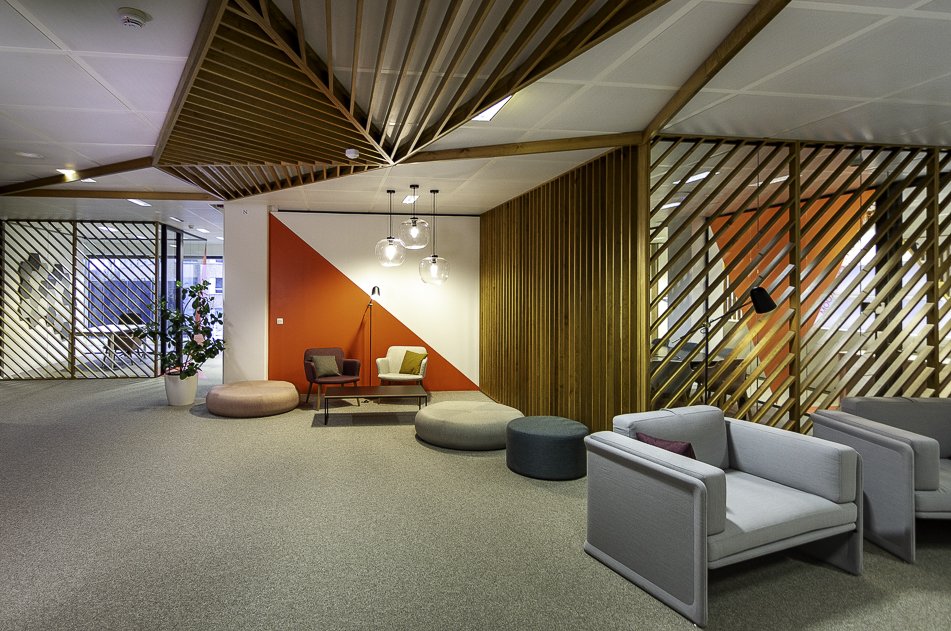 Like many modern workspaces, Dow's Antwerp office featured an open-plan layout, bringing its employees together in an active community atmosphere. Unfortunately for employees, the space lacked key design features to contain sound. Noise in the office made it hard to get any work done, and employees found it challenging to take important phone calls over the din. What's more, the open office lacked private, Dow-branded meeting rooms in which to host customers and close deals.
After working with us on an industrial project, Dow felt that IPS understood their brand and could solve their unique challenges. With this new office, we set out to maintain the communal feeling of the previous headquarters but to create more division within the space, with secluded, quiet areas that would dampen the noise and boost productivity. We also sought to provide the company with a means of showing off the brand and its products to their customers: a showroom that would create an enjoyable experience for visitors and communicate Dow's extensive bona fides.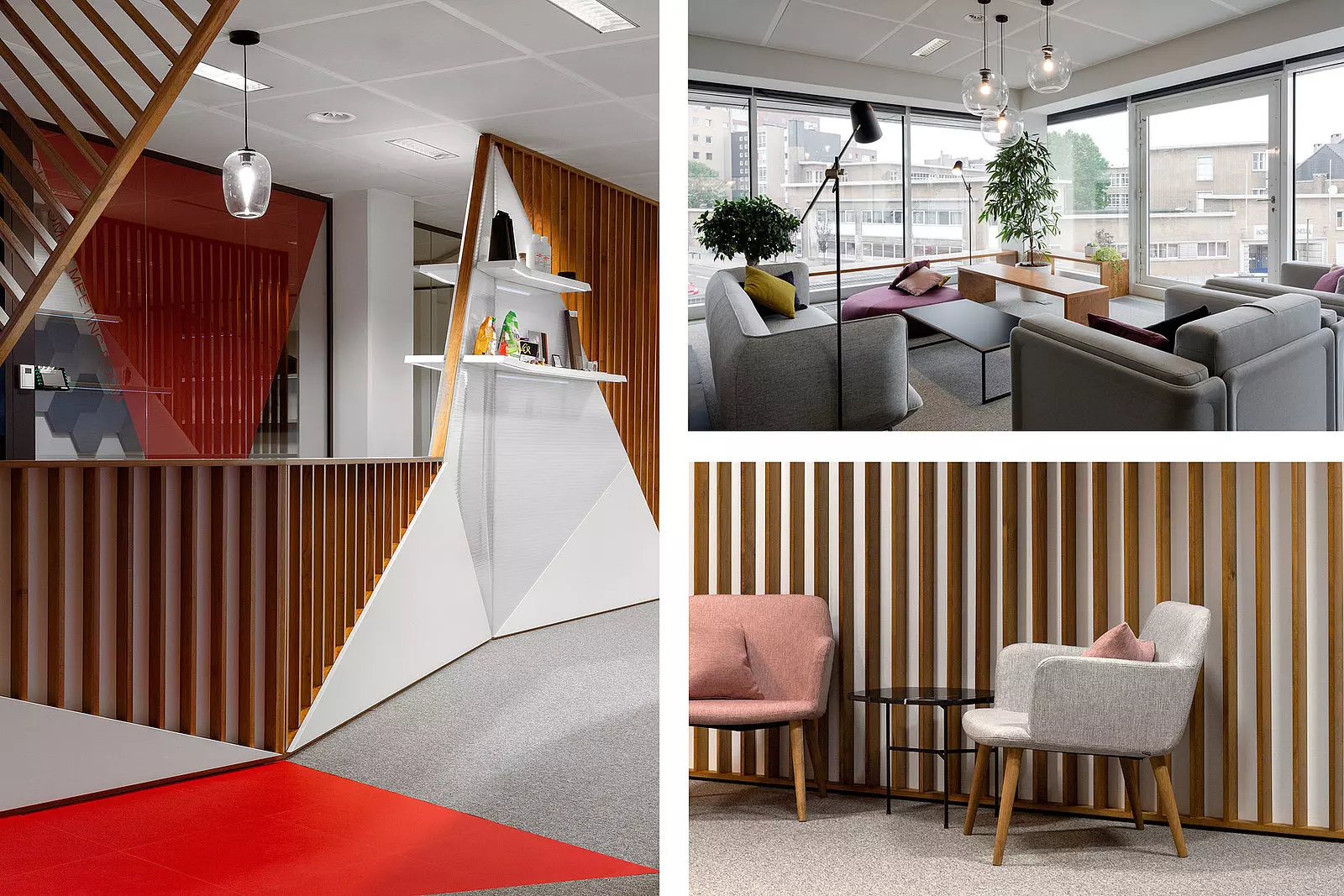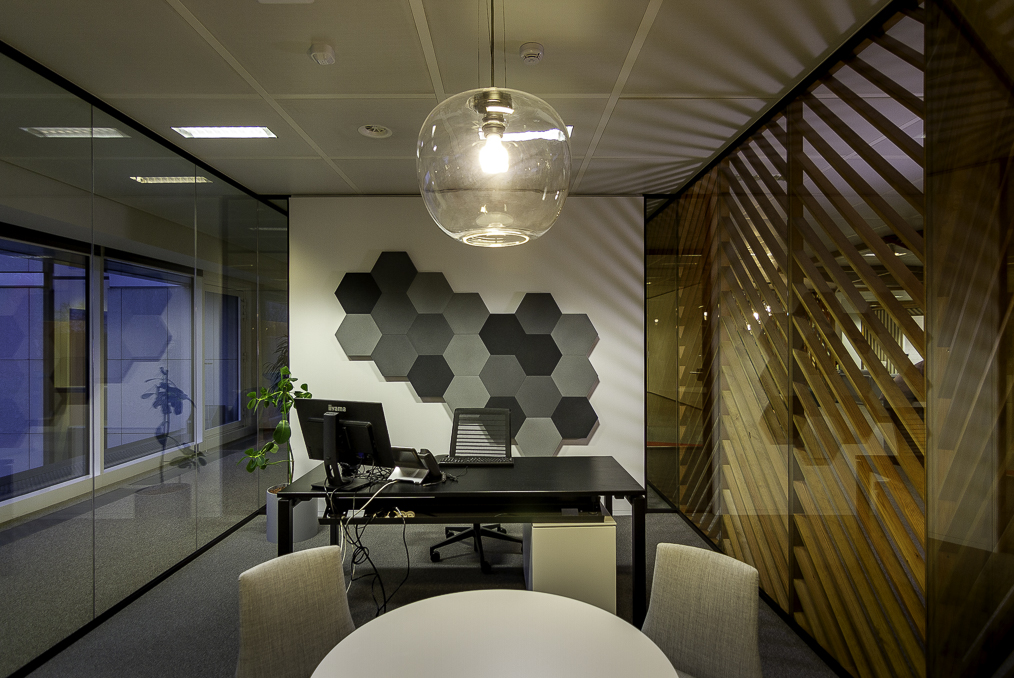 Right off the bat, we coordinated with Dow's property owners for approval of the renovations to the rented space. We also juggled all of the moving parts of the construction phase, including cost control, utilities, and staff coordination and management. Our team, including our in-house architectural arm, Arquid, remained in close contact throughout the project to adjust for any changes and to ensure that we came in under budget in the end.
Everyone agreed that if Dow needed anything, it was better acoustics. For the new Antwerp HQ, we carefully devised a layout that would maintain the communal feel of the previous space but better absorb the sound in the office. With strategically placed angular wooden buffers that echo the diamond-shaped Dow logo, we found that we could both contain the noise and create a little more privacy for employees. We were also careful to select high-quality glass and insulation for use throughout the space. The company's new meeting room features views of the central office area, where employees can congregate and chat, maintaining the feeling of transparency that had characterized Dow's previous offices.
Customer visits are a highly important and frequent occurrence in the Dow offices, so we paid particular attention to the ways customers would navigate and interact with the space. We devised an on-brand color-coding scheme to guide foot traffic smoothly through the offices: Visitors to the space move along burgundy pathways, while points of interest for regular employees are highlighted in red. A visual history of The Dow Chemical Company, along the wall near the entrance, provides an overview of the brand's storied history for visitors. Best of all, a new showroom gives Dow employees the space and tools to demonstrate their products to customers. With sleek video screens and space for employees to engage visitors with tablets, the space is interactive, visually striking, and adaptable for Dow's future.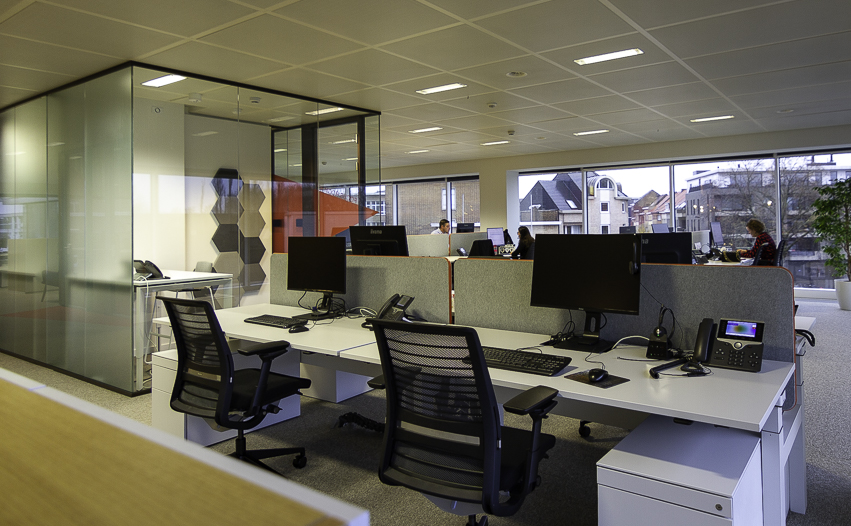 Our chief project manager communicated closely with our client in Belgium, bringing his understanding of local conditions and regulations to the job and synthesizing his insights with Arquid's. Despite the geographical distance and the cultural differences, we confirmed beyond a doubt that Arquid could work just as efficiently from their offices in Spain as we would on the ground in Antwerp.
The project manager and project pilot also worked closely with Dow to ensure all of their needs and desires were met. Amongst other tasks, they even accompanied the customer to a showroom to help them select furniture for the space, then worked to translate their preferences to fit within the project budget. Our internal collaboration was streamlined thanks to close coordination and our unifying project-management methodology.
The result is a warm, inviting office space that communicates the values of the Dow brand and improves the working life and productivity of Dow employees. With an office the team can be proud to show off and a space that serves their day-to-day needs, Dow's modern workplace is now optimized for a long future of success.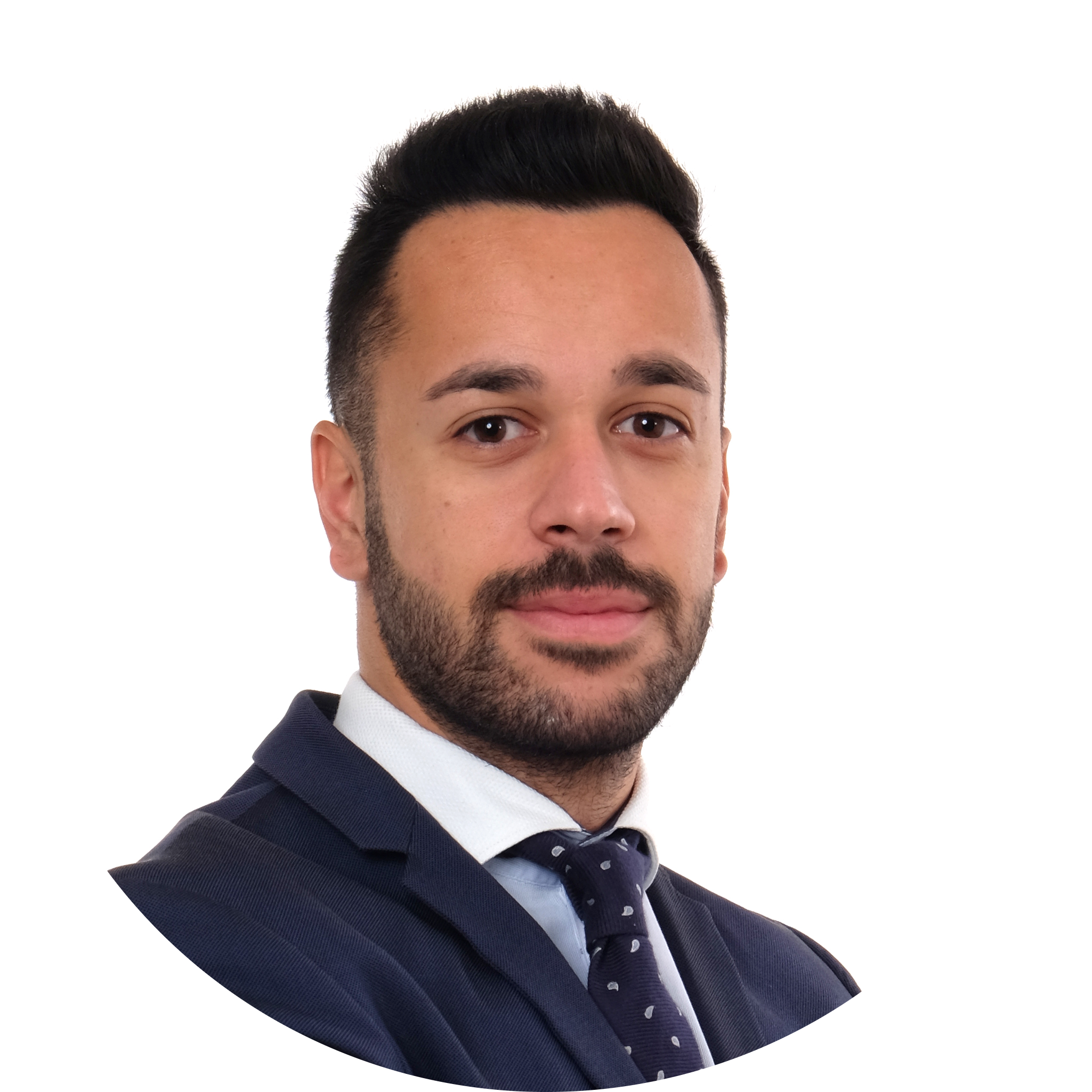 Yannick Vega Fernandez
Global Business Development
Interested in further information?
Let me get back to you.