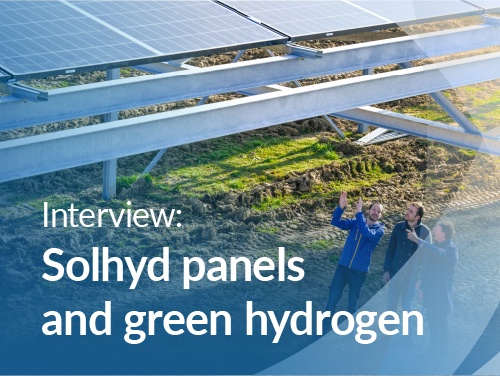 "Group-IPS is helping make our hydrogen panels a success," says Tom Bosserez from KU Leuven
You probably already know that Group-IPS is contributing to the Solhyd project of KU Leuven, which aims to make renewable hydrogen available to everyone. The project was nominated in the Research category of the European Inventor Award 2022, and we are glad that we could talk to one of its founders, Tom Bosserez, who has been responsible for product development and production for the last 2 years. He told us more about the beginning of the project and about its prospective future.
When did the Solhyd project start?
The research leading to the project started ten years ago. Back then, Jan Rongé and I concentrated on researching different solar hydrogen technologies because it was our Ph.D. thesis topic. Johan Martens, now the leader of Solhyd, was our mentor. Only in the last few years have we concentrated on the specific technology the Solhyd project is about. The team's core is still the three of us, but it has grown to nine people. Currently we are in the transition phase from research to spinoff. We want to accelerate the production, which requires more people with different profiles and backgrounds.
Were you surprised when you found out that Solhyd was nominated for the European Inventor Award 2022?
Our whole team was surprised because we didn't know we were selected. We only found out when we were informed that Solhyd was one of the three finalist projects in the Research category. Of course, we feel very honored to be selected for this award.
How did the project change since Group-IPS got involved?
Three years ago, our team got funding from the government targeted towards upscaling the technology we developed at KU Leuven. We are using the money to upscale the product and build a production line to make our panels at a larger scale, something Group-IPS is helping us to do. They have an industrial setting, so they mainly work on utilities, electricity, safety, new orders, and other necessary things. Basically, on everything that we as academics can't cover.
You've mentioned that the Solhyd team is already upscaling the product. What will be the main difference from the current hydrogen panels?
We want to produce our hydrogen panels commercially. That means we have to make sure that the efficiency, stability, validity, and quality of the second generation are perfect, and that it is affordable as well. These hydrogen panels need only air to work, so they can be used anywhere in the world, making them a perfect renewable energy option for all developing countries, islands, or remote places with low electricity support.