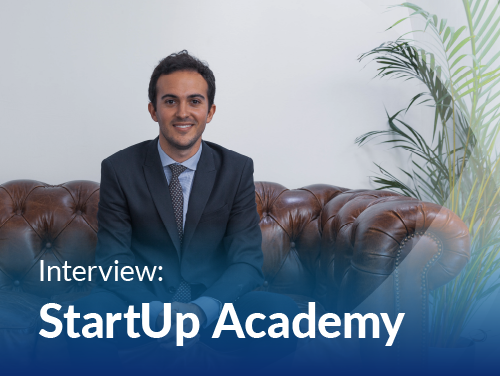 "StartUp Academy is a great way to bring innovative ideas to life," says Julián Sáenz Escuder
We gave the StartUp Academy warrantor Julián Sáenz Escuder three questions and found out that there are two main reasons the first year of project supporting the company's intrapreneurs is being held. Not only does it give chosen talents an opportunity to get proper training and turn their business ideas into real projects, but it also aims to speed up Group-IPS's internal growth.
What was the main reason Group-IPS decided to create StartUp Academy?
I would say it was a combination of two main reasons. The first was Group-IPS's history and emphasis on letting the company grow through intrapreneurship. The second motivation for creating the StartUp Academy was boosted by our strategic plan, which is in its first phase now. This plan includes a new department which targets our corporate development. From it, we're going to address the market and find out whether we are able to compose services with start-ups. That means that for the very first time we are defining venture activities regarding clients as well as buildings. To be able to manage all the projects that might arise with these new projects, StartUp Academy seems like a valuable tool to start new initiatives with people that are working for Group-IPS already. It also means that we will be able to compose innovative services for our clients and find new ways to help them develop their own businesses.
Was it hard to organize StartUp Academy 2022? How would you evaluate its progress?
I'm really glad that the current StartUp Academy was organized in cooperation with 7r Ventures, a company supporting and investing in other companies that are driven to deal with the problems of traditional industry segments. It started on 18 January and its end is planned for 25 March 2022. That means that we've already finished three modules out of five. At the end of the project, we will have six prospective business plans and we still don't know how many will turn into actual Group-IPS projects. Anyway, I'm very happy that all six of the people we've chosen are driven to make a change and are working on very interesting and different business plans. For example, one is addressing cloud services, another, a technological product to monitor quality of agriculture.
Is Group-IPS already planning to organize StartUp Academy 2023?
Of course, we would like to organize it annually, always in the first quarter of the year. I have some ideas to improve the program of StartUp Academy 2023, but the foundation will be the same as this year. It's still quite early to make any concrete specifications on our approach for the next year, but we will know more after StartUp Academy 2022 ends and we will be certain that the quality of the final initiatives is as we desired. I also hope there will be more applicants in 2023 because StartUp Academy is a great way for IPSers to receive proper training and bring innovative ideas to life.