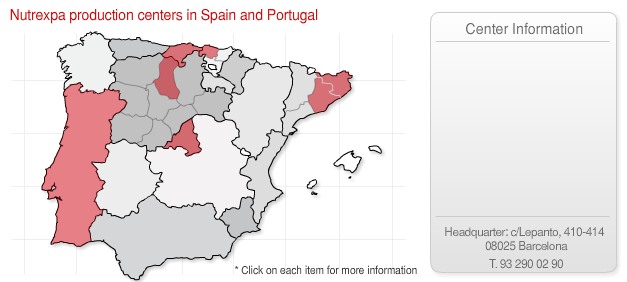 Global Maintenance Contract
Nutrexpa, Spain, 07/2013 - Ongoing
Food and Beverages
Project preparation
Spain

Nutrexpa is one of the largest groups of the Spanish food sector with a national and international business. Nutrexpa started with Chocolate powder products and has increased its offer by bringing in competitive companies from the food sector which would later form the Nutrexpa Group.
In the previous years Nutrexpa has purchased new brands to complete their business. Now, each plant has their own suppliers with different needs and budgets.The goal of this project is to find a global contractor who can give national service to Nutrexpa in order to unify maintenance criteria, reducing the cost and increasing the control from the central offices.
IPS has been responsible to:
Define the needs of each of the plants referring to maintenance.
Evaluate current suppliers of each plant: technical capacity (services), location (immediate availability) and pricelist in order to select the most suitable and global supplier for Nutrexpa.
Technical and economical final negotiations with the chosen suppliers.
Principal project data
National procurement for maintenance contract.
Scope IPS
Project Preparation
Functional description
Enquiry
Procurement
Contracting
IPS operational unit(s)