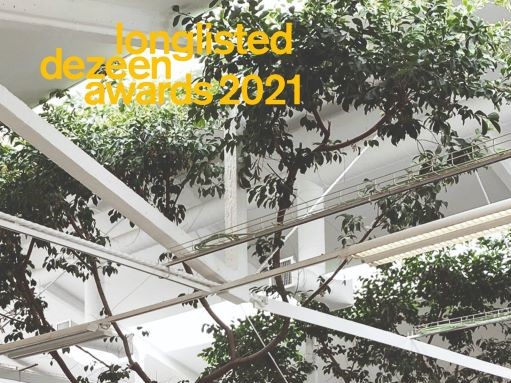 New Group-IPS office in Madrid long-listed for the prestigious Dezeen Awards 2021
Our return to the Madrid office is even more special for us. Apart from the fact we can meet with the team again, Ficus Office, as the Group-IPS headquarters is called, has been long listed for the prestigious Dezeen Awards 2021 architecture award. Arquid, the architecture studio belonging to the Group, has also been recognized and long listed among the 24 best studios of the year.
Renovated old warehouse as part of the company's identity
"Ficus Office, our heart-base headquarters, is basically our soul made project. It is the story of believing in the potential of our heritage; it is the story of our work, our continuous effort to lead the industry into a new path of purity and flexibility," shared Juan Juarez, International Business Unit Manager for Architectural Services of Group-IPS.
The premises, in an old warehouse, were almost abandoned when we found them. After the renovation, they mirror the company's heritage and values. Once the location was chosen, the goal for the architects was to create an architectural product of the highest quality following Group-IPS project management methodology, keeping track of timing and investment during both preparation and realization phase.
The task was assigned to Arquid, which is part of Group-IPS. "We design each office according to the needs of the company and its teams," says Begoña Soto, Partner of Arquid. The Ficus office was also modified according to pandemic-related changes. "We adapted meeting rooms to be able to hold more meetings remotely, designed spaces with the necessary ventilation, with the least number of doors, handles and switches were replaced with sensors, and we also chose easy-to-clean materials. These are just some of the many strategies that we can pursue in the new offices," says Soto.
The architectural studio and new offices recognized among the best of 2021
The Arquid innovation didn't go unnoticed. Recently, the studio has been long listed for the prestigious Dezeen Awards 2021 among the 24 architecture studios of the year. This recognition proves Arquid's mission was correct. As Begoña Soto shares: "Through design, we want to create work environments that are safe, minimize our environmental footprint, and support our people in feeling empowered and energized."
Additionally, the Ficus office project in Madrid has been long listed in the category Small workspace interior.